You may wish this Christmas season may bring joy, happiness, new relationships, and wonderful sex life. But you certainly don't want any STDs with the Christmas Sex.
Last year's data, suggested the surge in the rate of STDs after the Christmas season. Rates of HIV, Syphilis, Gonorrhea, Herpes, and Chlamydia were seen soaring despite repeated sexual health education campaigns.
Traditionally, the highest detection rate of sexually transmitted infections (STI) are in January and February after the Christmas and New Year party season.
In some cases, the rate of STD detection and treatment is double in January to March for what it is for the rest of the year.
That's not it, new research suggests Americans are more likely t have STD than Europeans where Washington DC tops the list of HIV league.
According to a new survey, 10% of people say they've caught an STD from a coworker when they were getting-it-on at the company Christmas party.
Why STD rate surges during Christmas and New Year season?
Christmas brings with it Joy, celebration, party and lots of intimacy. Let's find out the factors single-handedly or collectively causing STD rates to increase during Christmas and New Year.
Late Night Parties: Partying with your colleagues, friends or someone you like can really bring you closer to them. So close, that with the passing time situation may slip out of hands.Party during festivals with your partner can really kindle the flame of intimacy.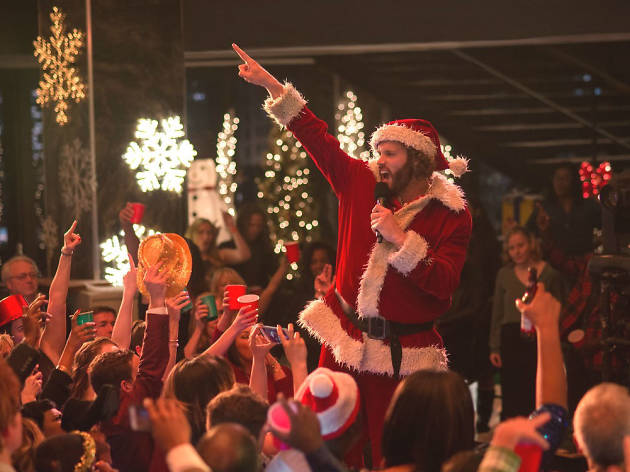 Risky Behaviour: The party hunters, the adolescents gets a skewed version of sexuality through dating apps, peers and other media they come across. This lets them into the engaging in risky behaviors while having sex. Thus, after party encounters usually ends up with sex without protection.
Alcohol : According to the research done by CDC, the consumption of alcohol increases the chances of contracting STDs. As the person under its influence is more likely to miss taking any protection while having sex. The alcohol can contribute to increasing the spread of infecting the person with STD.
One night stands, casual sex and hookups: It happens during Christmas and New year celebration. It often happens casually, in that moment. Although the experience can be fabulous but the ramifications can be dangerous. You don't know the sexual health or the history of the person and so it makes the whole thing very risky.
Unprotected sex : Unprotected sex after party or celebration is the common things which happened during Christmas/New year. It is always suggested to carry condom. It is estimated by CDC that almost 50% of the teens don't use condoms while having sex. This makes them or their partner vulnerable to these diseases.
Use of drugs (syringe, HIV) : It is always suggested to Avoid mixing alcohol and/or recreational drugs with sex. If you use alcohol and drugs, you are more likely to take risks, like not using a condom or having sex with someone you normally wouldn't have sex with. It's not just that, the infected syringe can cause many diseases to spread including the likes of HIV.
Influence of Online sexual content: Far from the truth and exaggerated content on sex had a negative influence on adolescents. With the proliferation of free sites, teens fail to realize the consequences that these sexual activities can have.
If you think it is safe with the people you know?
According to a new survey, 10% of people say they've caught an STD from a coworker when they were getting-it-on at the company Christmas party.
So the chances of you getting Contracted is 1 out of 10 during a Christmas or New year Party.
Which age group is more at Risk of contracting STD during Christmas/New Year?
Generally, Teens and Young Adults are very vulnerable to STD during this period. About half of these infections are in people between the ages of 15 and 24 years.
Teens and Young Adults are more at risk of getting contracted because of their lifestyle, their age. Usually, teens and young adults are not aware of taking correct protection.
Another problem with the teens is their Immature Reproductive system
Adolescents, especially ladies of these groups, are more prone to sexually transmitted disease than adults as their reproductive systems are still developing and more vulnerable to infections.

How to prevent STD during Christmas and New Year
1.Abstinence from sex: This is obviously the safest way. It's okay to say "no" if you don't want to have sex. But, that doesn't solve your problem if both of you want to have sex. So the following things can help you prevent from STD if you want to have sex.
2.STD testing beforehand: Make sure you are aware of the sexual health of your partner. For this make sure you and your partner get tested beforehand. So the Christmas is impending so get tested for STD near you to enjoy safe sex.
3. Practice safe sex: Make sure you use Condoms during the entire act, that is, from start to finish. You couldn't skip condoms for any kind of act, be it an oral, anal or vaginal sex. Enlighten yourself for the correct use of a condom. Carry protection all along or you may have to leave the party or celebration to look out for it. Please beware that, its just not about the protection against STD but also an unwanted pregnancy.
4.Mutual Monogamy: This means you both agree to only have sexual contact with each other. This ensures that the STD is not being spread from person to person. Chose your partner wisely, ensure his/her sexual health is fine.
5. Get vaccinated: Certain STDs like HPV and Hepatitis A,B can be prevented beforehand. Ensure you get vaccinated before the sexual contact so that to rest assured for at-least these STD.
6. Avoid drugs with sex: Avoid mixing alcohol and/or recreational drugs with sex. If you use alcohol and drugs, you are more likely to take risks, like not wearing a condom or having sex with someone you normally wouldn't have sex with, like a stranger. Also, Some STDs like HIV can also be spread by sharing needles (like for drugs, piercings, or tattoos), thus the use of drugs during sex can be very dangerous
7. Talk to your partner: It may be a little time during the party, but speak to your partner. Stay clear with your partner on what you will and will not do sexually. This is really important as certain forms of sexual acts may let you prone to certain kinds of STDs.
Special attention on gay or bisexual men party
In a recent, study by NHRC on gay and bisexual men at party, they found that HIV-positive men attending parties engaged in higher rates of illegal drug use and sexual risk than HIV-negative men. Prevention campaigns targeting MSM at high-risk events should include messages geared toward HIV-positive men.
Paying special attention to the latest party trends that result in spreading of STDs
1) Sex roulette party
An increasing trend of ' sex roulette ' parties – where one person secretly has HIV and no one is allowed to wear a condom – are on the rise, doctors have warned.
2) Bug chasing underground groups
It is the practice of pursuing sexual activity with HIV-positive individuals in order to contract HIV. The intent here is to prefer the sensation of having sex while risking dangers of HIV, but generally, prefer to avoid contracting STIs.
There are many factors which can lead to the rise of STD this festive season. What we all need to watch out for is that we don't give a chance to certain situations. Prevention is always better.